After a successful breast augmentation consultation a couple of weeks ago, I proceed with scheduling the surgery.  As I learned at my consultation, prior to having a breast augmentation there is a pre-op appointment which I had last week.
It was at my pre-op appointment that the entire experience became more real.  The nurses took my weight and blood pressure (it was uncharacteristically high – hello, white coat syndrome) before Dr. Cameron Craven entered the room to begin taking measurements.  It's just like on TV, everything is measured so that the doctor can get a clear picture of what he's working with.
Then it was time for the fun stuff…choosing the breast implants that I'll have inserted next week!  Dr. Craven and I decided at my breast augmentation surgery consultation appointment that I would have silicone breast implants inserted under the muscle with an inframammary incision but I didn't select the profile or size.  The breast implant profile needs to be determined before selecting sizes as the breast projection will vary and your intended shape will be altered.
Dr. Craven presented two different options for the profile of my breast implants – moderate plus and high profile.  After another quick peek at past before and after breast augmentation pictures, I decided to try on a sizer of each one before making the final decision.  With a sports bra on and a moderate plus sizer on one and a high profile on the other, I decided the high profile look was more appealing.
Next, we were able to talk sizing!  I was not blessed with an ample chest.  Even after my milk came in, I only got up to a B cup.  With my full hips, a more proportional body is what I've been seeking.  So I began trying on breast implants in the 350cc range and went up from there.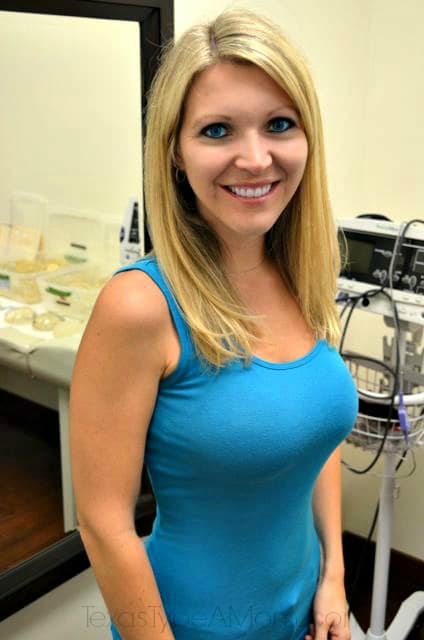 Unlike most doctors who have the final say in the size of the breast implant you receive, Dr. Craven leaves that decision entirely up to you.  He does use your measurements to determine a range that is best suited for your size but choosing the actual implant is your decision only.  When comparing breast implant sizes, I never felt pressured or rushed in making my decision.
After I confirmed my decisions, the nurses began to go over a ton of information regarding my procedure and post operative care.  I was giving copies of all instructions, along with things to get done prior to the surgery such as lab work, prescriptions, post operative bra suggestion, and other helpful tips to make surgery day go more smoothly.
Less than a week to go and I'm still more excited than nervous!  If you haven't already seen it, make sure you watch my video about my reasons for breast augmentation surgery!
Any words of advice for me before I head into my first surgery ever?